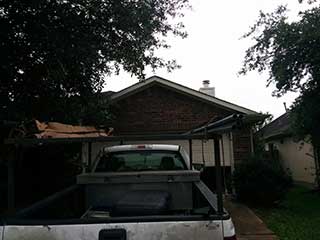 There's No Need To Delay
Rather than struggle with a garage door that's no longer working as it used to, it's time take care of it! We'll get to work right away so you won't be stuck without your door for long, and afterward won't need to wait for it to crawl open and closed. You should be able to rest assured that your door will work when you need it and will close to protect your home and belongings! We'll ensure that this is the case, and also help prevent further damage down the line from the system straining to deal with the issue.
Tracks Aren't A Problem
The tracks of your garage door are what it moves along to smoothly open and close, but if the tracks have sustained damage or even got tweaked slightly, it may no longer by working as easily as it should. We'll take a look at the whole system to see if it's an issue with the door no longer being aligned with the tracks properly, rust, or a dent that's slowing things down, then set about taking care of it right away!
We Handle Rollers Too
Rather than the tracks themselves, the problem may really be with the rollers inside them that may have become broken or too worn over the years from daily use. We can carefully pry open the tracks to take a good look and repair or replace any of the rollers that require it so your door can slide along with no trouble again.
Don't Leave Your Door Looking Haggard
A broken panel of your door not only ruins the look of your door, but it also makes the system struggle as the door opens and closes and can become a bigger crack over time with continued use. We can get it looking like new again in no time or replace it if the harm is too great.
Why Wait Any Longer?
Call Garage Door Repair Spring Branch today so we can get to work!
We also offer:
Extension Spring Adjustment
Liftmaster Chain Drive Lubrication
New Garage Door Installation