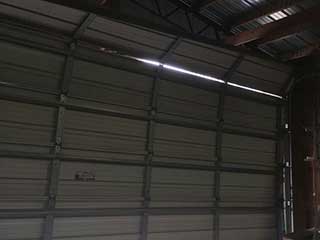 Issues With Panels
Unfortunately, it's easy for the panels of your garage door to get damaged over time. A small bump from the car from a new student driver, or even severe weather, may cause cracks or dents in a panel. It might seem like only superficial damage, but the reality is that it creates a strain on the rest of the system and will wear it down over time. Make sure to look over the front of the door every now and then, and if you notice an issue with one of the panels, contact an expert who can repair or replace it for you and get it looking like new again!
Track And Roller Trouble
The tracks and rollers of your garage door go hand in hand to move your door along, but if either is having problems you're going to notice your door dragging and potentially making a lot of noise as well depending in the issue. Look closely at the track and make sure it looks like the door is securely in place, as sometimes the door can be knocked off of the track. Also keep an eye out for dirt and debris that may be jamming up the groove, which you can clean out yourself as long as you're careful about it. If the track or rollers themselves seem to be rusting, or anything else looks odd to you, it's safest to let professionals come out and take a look themselves to see if there's a problem.
Cable Slips And Rusting
Problems with the cable of your garage door can be subtle, such as just getting rusty over time and starting to wear down, to something more noticeable such as slipping off the drum. That's why it's good to take a look now and then to be sure you don't miss any signs that it's time to get it repaired or replaced. Problems with the cable tend to be a symptom of a different part of the door breaking down, such as the springs. In any case, a technician should be called to tend to it!