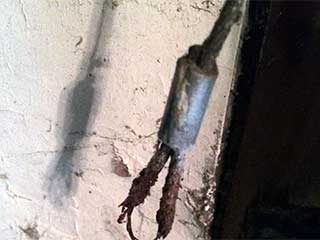 Here are just a couple of reasons behind common problems with garage door tracks. Prolong the life of these components by learning more about them here below.
A Sustained Impact

You think you've barely tapped the door with your car, and the damage is not too extensive or is barely visible at all. Or, you've somehow managed to hit the door with your lawn mower and think how lucky you are to get away with just a few dents and scratches. It's only aesthetics, right? Think again. Impacts of any kind can cause damage to the tracks as well as to other components, so act fast after any such event and have the whole system inspected.

Cable or Drum is Broken

Cables and drums are the components responsible for lifting and supporting your garage door. When either of them breaks, the weight of the door is no longer properly supported. Since tracks are not designed to carry the entire load on their own, they tend to bend or become misaligned. Bear in mind that cables, like springs, are also under extreme tension, and are not to be tampered with. What you should do is call professionals.

Lack of Maintenance

Regular maintenance is of great importance. If you service your car annually, why not do the same with the system keeping your car safe and sound? Make sure to lubricate the rollers and keep the tracks free from any dirt and debris. Failing to do so will mean increased friction when rollers move, and the tension can cause tracks to bend.

Corrosion and Rust

The galvanized layer protecting tracks from corrosion and rust is not everlasting. The usual wear and tear, weather elements, road salt and use of chemicals in the garage will eventually compromise the galvanization on the track and expose the metal beneath it. Postpone the formation of rust by carrying out routine maintenance, including, but not limited to, regularly washing your garage door.